Aroma Bakery

Inside the bakery with Sparrow.

Location

Hours

11 am - 5 pm, closed Mondays

Owner

Assistants

Merchandise

Ingredients and prepared dishes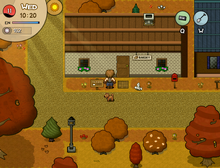 The local bakery is always smelling of fresh bread and sweets. Cooking ingredients can be purchased here, as well as seasonal dishes and tasty treats to be eaten or given as gifts.
The Aroma Bakery is located in West Village, adjacent to the Midnight Tavern. Sparrow owns and lives in the bakery. His sister Siloh, once she returns to the village, will also live and work here.
Inside there are a couple tables and a counter covered with cooking supplies. Talking to the cashier allows you to purchase ingredients or cooked dishes, or work a shift at the counter. Behind the counter is a door marked employees only and a staircase leading to Sparrow (and eventually Siloh's) living area.
Villagers often hang out in here, especially on rainy days. This is also the only place where you can obtain cheese, bread, sugar, vegetable oil, and butter, so it would be prudent for a cook to come here often to stock up.
Part-time Work Schedule
Edit
You are able to work part-time here if the store is open and Sparrow is behind the counter. Your shift will end at 5 pm and you will earn 𐍈25 for each hour you work here. A maximum of 𐍈150 can be obtained.
Sparrow is the only one ever behind the counter before Siloh moves in, allowing you to work here all week. Once Siloh moves in, Sparrow will not be working behind the counter on Wednesdays.
Items for Purchase
Edit
Ingredients
Prepared Dishes
Home Decor