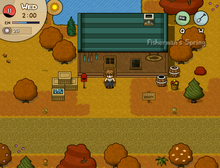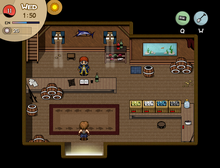 Bait 'N' Rod is the local tackle shop run by Wake, the fishing guru, and is closed until the player receives the blessing of Ivana and he returns to town. Once you unlock this shop, you can buy a net to catch 5 fish per hour, and a variety of new fish and crustaceans will be available to capture. You will also be able to purchase bait, rather than having to dig for it, as well as fish. There are many things you can't catch until you unlock the shop!
Open 11am - 6pm, closed weekends.
You can work part-time on any day of the week, just talk to Wake at the counter.
Items for Purchase
Edit
| Name | Cost |
| --- | --- |
| Juicy Bait | 4 |
| Inland Sunfish | 18 |
| Rainbow Trout | 22 |
| Bluefin Tuna | 24 |
| Coastal Herring | 35 |
| Landing Net | Upgrade 1 | Upgrade 2 |
| --- | --- | --- |
| Catch Allowance | 3 | 5 |
| Requirement | Fish for 20 hours | Fish for 70 hours |
| Cost | 340 | 520 |