Fishing is a great way to start making some money early in the game.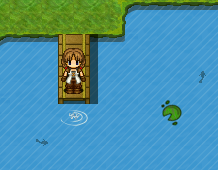 On Spring 7th, Barley will come to your house and give you a Fishing Rod and some Juicy Bait. He explains that you can get more Juicy Bait by digging with your Digging Spade.
There are several locations where you can fish: the Oceanfront pier, the Breezy Meadow pond pier, the Sunflower Farm pond pier and the two Fisherman's Spring river piers. You don't have to equip the Fishing Rod to use it. Just go to the end of the pier and tap Z or the space bar for a dialogue.
Fishing is a mini-game in itself. Position your rod with the arrow keys and tap Z or the space bar to set the casting distance on the top bar. The first tap activates the bar and the second casts the hook at the selected power/distance. Easy! Each fishing attempt takes one hour, no matter how many times you miss.
To ship your haul, use the crate outside your house. Prices can be found on the Sell List.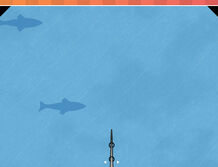 You can also eat, cook, or give away the fish.
Once you unlock the Bait 'N' Rod fishing shop, you get a Landing Net that will allow you to catch more fish per hour and a larger variety of fish. It can be upgraded once you have fished for a certain number of hours for a price.
Sinker Drops are a special bait for catching the Stone Loach and Roundscale Marlin once you have the Landing Net. They can be bought from Paxel's Stall, dug up, or given as rewards by the Sage Glop.
| Image | Name | Description | Source | Sell |
| --- | --- | --- | --- | --- |
| | Inland Sunfish | Small breed of inland fish with golden scales. | Catch at Breezy Meadow, Fisherman's Spring, or Sunflower Farm. Available for purchase from Bait 'N' Rod for 18 coins. | 8 c |
| | Rainbow Trout | Medium-sized haul common to Sugar Blossom. | Catch at Fisherman's Spring with a Fishing Rod. Available for purchase from Bait 'N' Rod for 22 coins. | 10 c |
| | Stone Loach | Slow eel-like creature that dwells in the muddy deep. | Catch at Fisherman's Spring with a Fishing Rod, Landing Net, and Sinker Drops. Once Wake and Fable return to the village, the fish can also be caught on the fifth level of the Gemstone Quarry when a thunderstorm or blizzard occurs. | 32 c |
| | Bluefin Tuna | Quick saltwater haul with poky blue fins. | Catch at the Oceanfront with a Fishing Rod. Available for purchase from Bait 'N' Rod for 24 coins. | 11 c |
| | Coastal Herring | Skinny gray fish that keeps to ocean shallows. | Catch at the Oceanfront with a Fishing Rod and Landing Net. Available for purchase from Bait 'N' Rod for 35 coins. | 17 c |
| | Cherry Salmon | Inland haul with distinctive, bright red scales. | Catch at Fisherman's Spring with a Fishing Rod and Landing Net. | 16 c |
| | Dagger Bream | Fairly common breed of plump gray fish. | Catch at Breezy Meadow, Fisherman's Spring, or Sunflower Farm with a Fishing Rod and Landing Net. | 16 c |
| | Coral Lobster | Marine crustacean with tough red claws. | Catch at the Oceanfront with a Fishing Rod and fully upgraded Landing Net. This is also a potential Sage Glop reward. | 25 c |
| | Freshwater Shrimp | Tiny, fast-moving crustacean with soft pink coloring. | Catch at Fisherman's Spring with a Fishing Rod and fully upgraded Landing Net. | 23 c |
| | Roundscale Marlin | Large ocean-dweller with a sword-like snout. | Catch at the Oceanfront with a Fishing Rod, Landing Net, and Sinker Drops. | 35 c |