Meadow Gallery

Inside Meadow Gallery with Cole.

Location

Hours

11 am - 9 pm, closed Wednesdays

Owner

Assistants

Merchandise

Art, jewelry, and music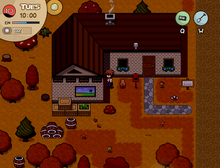 'Art washes from the soul, the dust of everyday life'
Artist sweethearts Cole and Amber sell their work out of a small shop in Breezy Meadow; he records musical discs for purchase, while she crafts jewelry and paints artwork for your walls.
Part-time Work Schedule
Edit
You are able to work part-time here if Amber is behind the counter and it is after 3 pm. Your shift will end at 9 pm.
Amber is behind the counter for most of the week, but is absent on Friday and Saturday.
Items for Purchase
Edit
Paintings
Music
You can preview each music at Meadow Gallery before purchase.
| Name | Cost |
| --- | --- |
| Woodwind Dreams | 280 |
| Everything in Harmony | 280 |
| A Sleepy Sunrise | 280 |
| Twilight Lullaby | 280 |
Carpet