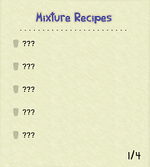 Mixtures can be sold, given as gifts or used in Cooking Recipes. To make a mixture, put two ingredients in a Power Blender. Ingredients must be collected in a Glass Bottle before you can put them in a blender.
If you don't own your own blender, you can use the blender at the Midnight Tavern.
After you make your first mixture, you can view a list of known mixture recipes in your knapsack under the Special category. Recipes can be learned from the Thursday TV Program or through successful experimentation.
Following is a list of successful concoctions mixed from local ingredients. All other combinations will give you a worthless grey goop. Empty the container of grey goop to get your glass bottle back.
Ingredients
Edit
Ingredients can be collected using a Glass Bottle. Each ingredient site takes a few days to regenerate after being collected, with the exception of Fish Oil and Pure Water which are unlimited.
Ingredients

Cider Vinegar

Coconut Milk

Crushed Herb

Evergreen Sap

Fiery Spirits

Fish Oil

Fruit Juice

Pixie Pollen

Pure Water