Mystic Ocarina
Type
Special
Source
Digging
"Enchanted flute covered with strange markings. Tingles when charm fairies are nearby."
Found by Digging.
While walking around with the Mystic Ocarina in your inventory, a tingling sound effect may occur and a "..." bubble will appear over your character's head. Playing the Ocarina at that spot will call a Charm Fairy.
Charm Fairies
Edit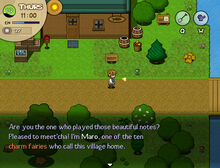 The ten charm fairies are a spirited bunch. They're very cheerful and love to spread the love around. When you encounter a charm fairy, it will offer to charm a character of your choice. Each fairy has a list of three different characters to pick from.  
Charming results in a small affection increase for the chosen villager. The locations for the fairies seems to be random. You may encounter the same fairy more than once.  
Here are the 10 Charm Fairies and the characters they will offer to charm for you: 
| Fairy Name | Villagers |
| --- | --- |
| Brain | |
| Dozer | |
| Maro | |
| Ruby Duchess | |
| Schmi | |
| Snowdrop | |
| Sun Wen Pen | |
| Tumnus | |
| Twinkle Toes | |
| Zoli | |